Coffee Bondi Beach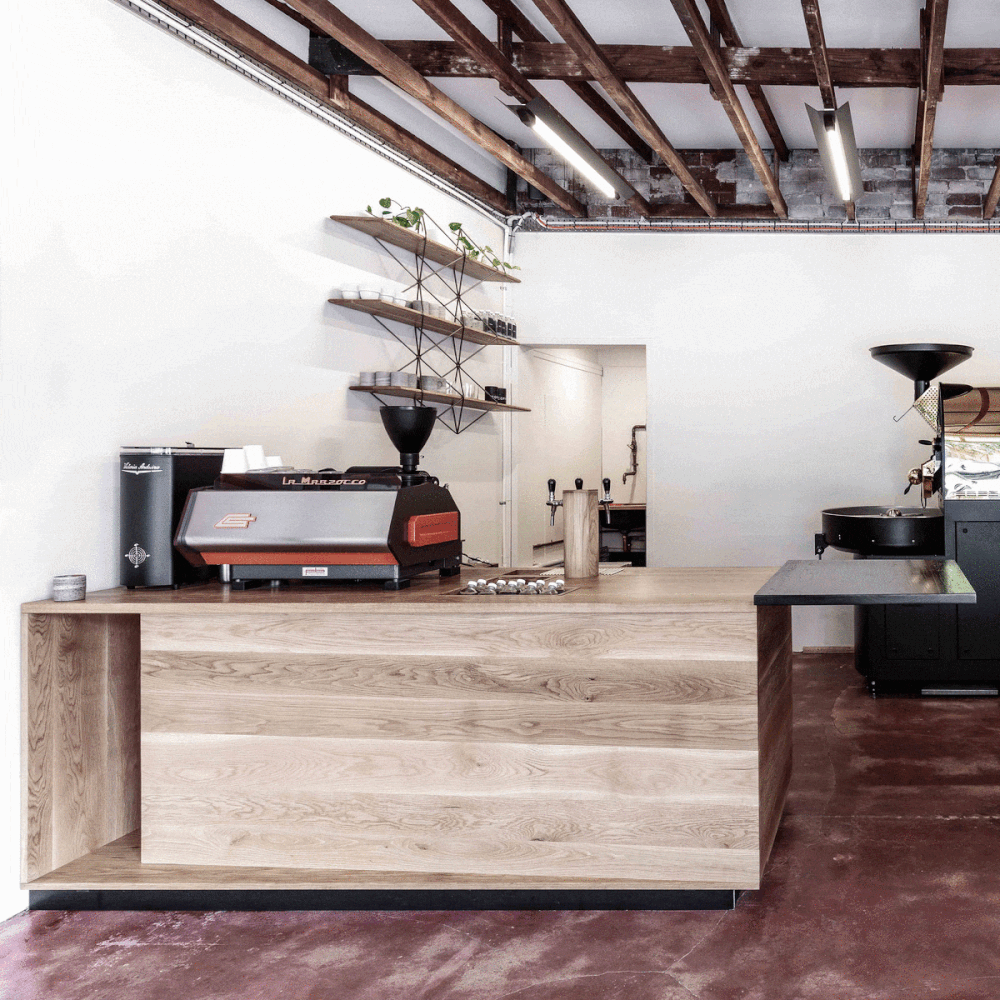 135 Curlewis St. Bondi Beach, Sydney, Australia
Interior Design, Fit-out and furniture
2016
Coffee Bondi Beach is a vegan coffee bar and roaster which follows the philosophy that producing the highest quality product can only be achieved through local and ethical production, by controlling every stage of the process.
The design and fit-out follows this mode of thought.
Studio Liam Mugavin was commissioned to design, produce and curate the space. The brief was to re-enforce the values of quality, local production, excellence and craftsmanship.
The interior focuses on the education and experience of coffee, communicated through unique design and craftsmanship. Rather than specifying off-the-shelf components, every component was custom designed and produced in collaboration with local emerging and established craftspeople. This included a metalsmith, team of glass blowers and a ceramicist.
The interior was stripped back to expose the original materials and history of the building. The design maximises the space both functionally and visually with retail space, roasting area, customer seating and coffee space.
Furniture
The furniture is constructed entirely of certified solid timber finished with natural tung oil. No laminate or MDF is used. The space features two coffee bars, the main bar for espresso and a second filter and retail bar which also serves as a point of education for the home brewer.
Lighting
The light was custom designed and produced in-house. Custom bent sheet metal shades with LED fluoro tubes were produced to reflect the industrial/raw feeling of the ceiling and floor. The lights are unique, yet remain understated and unobtrusive.
.
Ceramics by Ulrica Trulsson
Ulrica handmade 90 pieces of reduction-fired earthenware, each cup is unique. A characteristic of Ulrica's work is the use of textures, colours and subtle variation created through the reduction firing process. The texture and gradients of yellow and blue are elusively capture Bondi Beach.
Glass by Liam Fleming
Four oversized hand blown glass canisters and six custom beakers were produced by Liam Fleming alongside two assistants Alex Valero and Katie-Ann Houghton. The sheer size and processes involved in producing the vessels required the team to call upon their highly developed skills.
Metalwork shelving by Christian Hall
The unique bent metal shelving is a signature design by Christian Hall, director of the Metal Studio at the Jam Factory. The shelves are both a sculptural and functional expression. They perfectly frame and display the coffee brewing implements and create a sense of depth and space.
Sustainability
The fit-out features numerous sustainable principles, which cover the entire life cycle of the retail fit-out and each design element within it. Generally, fit-outs have a short-lived life, are often made from non-sustainable materials such as MDF and quickly end up in landfill. Conscious of this problem, the design for Coffee Bondi Beach addresses this issue on a number of levels:
- Ethically certified materials, no composite materials such as laminate or MDF 
- Focus on raw materials with minimal processing and finishing 
- No toxic finishes or paints. The timber was finished with Tung oil and metal left as is. 
- Fixtures, fittings, ceramics and glass by local craftspeople. 
- Designed and made for longevity, re-use and emotional durability. 
- Designed for end-of-life disassembly and recycling. 
- Implementation of an Extended Producer Responsibility Scheme including care, upkeep, repair and take back.
Video Credits:
The film was shot and edited at JamFactory by Liam Somerville from production company Capital Waste, with music by emerging electronic artist Sebastian Vivian (aka Slamagotchi).